Dogs and exercise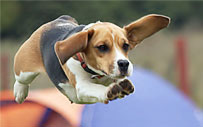 More and more dog owners are becoming aware that their pet needs to perform some kind of physical activity. It is not uncommon nowadays to see people running with their dogs. More and better dog agility groups are appearing. This sport, in which a handler guides a dog through an obstacle course, combines skill and dexterity.
The capacity to perform these physical activities, which are good exercise, depends on the dog's genetics, on the type of training it has received and on its diet, although it is paramount that the dog wishes to perform its duties: if a hunting dog is not interested in "pointing", or a shepherd is not interested in herding, even genetics, the best training and the most careful diet will not suffice.
A dog's genetic characteristics must be appropriate for the type of exercise you expect it to perform. It is difficult to imagine a Saint Bernard running after a decoy hare or a Pomeranian killing prey.
An adequate training plan should ensure that the intensity, duration and frequency of the exercise are appropriate to the animal's real capacity and to the level of performance. No matter what the training plan, however, exercise should be ongoing. Many dogs that perform in sports have not been trained properly, in general because theirs is a seasonal activity. This is the case with hunting dogs, which are inactive much of the year except for the specific times when they are very active.
As regards diet, it is evident that, even if it is adequate, it cannot counteract genetic faults or a training plan that is wrong. What an adequate diet shows, if the type of food, quantity and nutrition method are correct, is that an exercising dog will be able to perform activities in line with its genetics and training.
If you wish your dog to exercise regularly, you need to keep in mind that a basic first step is a visit to your dog's veterinary surgeon for a general check up. It is even more important if you are thinking of sports at a competitive level. The vet should receive detailed information about the dog's lifestyle, his diet, if he lives indoors or outdoors and the exercise he performs by himself or with you.
This information plus a series of tests will allow the professional to assess if the exercise you are planning is appropriate for your dog.