Vaccinations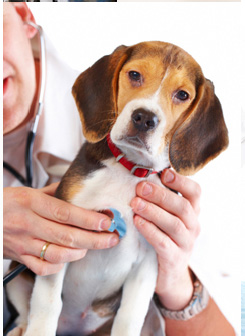 Ever since the 19th century and thanks to investigators such as Jenner and Pasteur, it has been known that infections are closely linked to germs, and that it is possible to become protected against them by injecting weakened forms of the infectious agents. Vaccinating companion animals is the best way to prevent several diseases. Respecting the vaccination schedule suggested by your veterinary surgeon is a basic route to full health. It is the preventive method par excellence. Unfortunately, it is not possible to vaccinate against every single illness, but there is a wide selection of vaccines that help prevent a great number of diseases of varying severity, some of which may be transmitted to humans.
Vaccination is a simple and effective method that has a reasonable cost. It has even been responsible for eradicating certain diseases.
After vaccination, the body's defence systems are activated in a way that is similar to how they would react to a real invasion. After a few days, the animal's own immune system will produce antibodies that react effectively against the real infection and will defeat it without falling ill or by catching a very mild form of the disease.
Under the Order introduced on 1 June 1996 by the Regional Government of Valencia, which establishes compulsory rabies vaccination in the Valencian Community, every dog owner that is a resident of the Valencian Community is responsible for ensuring that his pet has an adequate level of immunity against rabies. To achieve this, the animal must first be vaccinated at three months of age, receive a booster vaccine a year later and, subsequently, at least once every two years. Nevertheless, veterinary surgeons may, under their responsibility and according to their professional judgment, decide when, how often or even if it is necessary to administer other vaccines.
Dogs vaccinated against rabies must wear a plastic tag when in public places. Every year the Conselleria de Agricultura y Medio Ambiente (Department of Agriculture and the Environment of the Regional Government of Valencia) will inform the Colegios Oficiales de Veterinarios (Official Veterinary Colleges) of the provinces of Alicante, Valencia and Castellón of the characteristics of this tag. Veterinary surgeons must fill in the space provided for this vaccine in the animal's vaccination record booklet or passport, since it is compulsory for animals to be identified.
Infringement of the legislation on anti-rabies vaccinations for dogs is defined under the Spanish Ley 4/94 de Protección de los Animales de Compañía (Protection of Companion Animals Act) and is considered a serious violation carrying a fine of 600 to 6000€.
Rabies is unlike any other disease. It lives on in our collective subconscious because humanity has suffered it from remote times. The first references reach back to 1800 B.C. The patron saint of the disease, Saint Quiteria, is a reminder of its ancient presence. It is one of the most feared diseases because it causes one of the cruelest deaths.
Rabies is caused by a virus that provokes an acute infection of the central nervous system that is fatal if not treated in time, and affects humans as well as many animal species. The rabies virus is transmitted by infected animals, either by biting or by direct contact of saliva with an open wound.
Spain, except for the territories of Ceuta and Melilla on the African Continent, is free of cases of rabies. But wild rabies is present throughout the European Continent all the way to the Pyrenees, and urban rabies may be found in Morocco and Algeria. In this situation, being a border territory between Europe and Africa carries certain risks. In Spain, moreover, different species of bats are carriers of the rabies virus. This is why any person who has been bitten by a bat should seek medical advice immediately.
Systematic anti-rabies vaccination of dogs during many years has brought about the present favourable epidemiological situation of the Spanish canine census. The World Health Organization has congratulated Spain at the same time that it issued a recommendation to continue vaccination. Some autonomous communities have, unfortunately, done just the contrary. We should keep in mind that, if there should be an outbreak of the disease, viruses are not aware of administrative borders.
A responsible pet owner should only think of the health benefits and take into consideration the terrible consequences of not vaccinating his or her companion animal and thus exposing it to the disease. And he or she should know that vaccination is compulsory in most Spanish autonomous communities. Only veterinary surgeons are authorized to administer these vaccines. Their professional qualifications and experience allow them to establish the best vaccination strategy for each animal. It is very important to perform a checkup before administering the vaccine, since if the animal is not healthy the vaccine might not be sufficiently effective.
Before acquiring a pet that has already been vaccinated the owner should request the official vaccination record booklet (and reject non-official vaccination certificates which advertise pharmaceutical companies). There is another very important question: the owner should also demand that the vaccination records for the vaccines that the animal has already received be filled in properly. He should verify the name, batch number and "valid until" date of each vaccine and the signature, official stamp and official association number of the acting veterinary surgeon. This is the only way to guarantee that he will not be deceived.