Pets and babies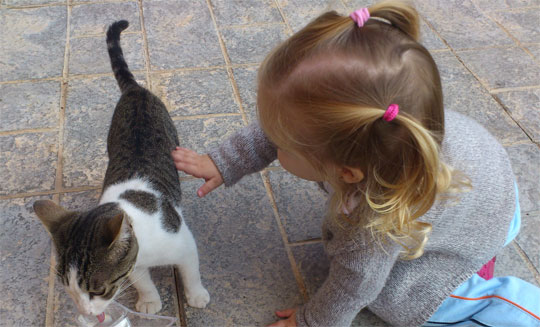 When a new baby is about to arrive, especially if it is the first, parents who are also pet owners start receiving an avalanche of comments and opinions about possible negative interactions between the pet and the new baby.
You should not believe everything that you are told. Once more, you should put yourself in the hands of a professional and consult your veterinary surgeon, who knows your pet best. He will usually have recommended a vaccination and anti-parasite schedule. If you have not followed it, now is the time to do it, without further delay. This way your baby will have the company of another being that is in perfect health and you will be able to react more calmly to a lick from your dog than to the kisses of many family members and friends. Or are you completely sure that they have been wormed?
Once the health questions have been dealt with, you need to pay attention to your pet's behaviour. Who knows a pet better than its owner? He knows if it is obedient and, most important, if it has been aggressive in the past.
Almost every pet reacts in a simple, natural and foreseeable way to the arrival of a baby. This is why we know that it is a mistake to take it away and have it return a few days after the baby's birth. Your animal will feel punished and will not understand why this has happened. It will also find that everybody is paying attention to a strange being with a strong smell.
So, if the arrival of a baby is going to imply changes in your pet's schedule, they should be introduced at least a month in advance to avoid the animal's connecting both events and blaming the baby for what he perceives as a loss.
And what should you do? When a new baby arrives, it will have a room with a crib and all its new accessories. Your pet should be allowed to get to know this room in advance.
When the baby arrives, you should leave it in its bassinet on the floor and let your animal smell, see and feel this new being that has arrived in its territory. While your pet is getting to know your baby you should speak in a normal voice, not raise it, and caress your friend, that will then become your child's friend. It will understand that this small being is part of the group, and that you accept it, so your pet will also accept it.
Finally, and besides following these guidelines, you should be careful not to leave your dog alone with your baby, to be completely safe.