Exotic or dangerous?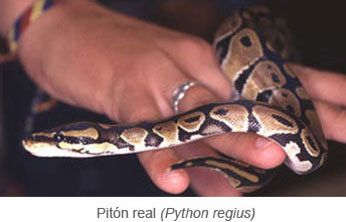 When we talk about companion animals or pets we usually imagine a gorgeous puppy or, less frequently, a cute kitten.
This image is changing nowadays. More people are considering certain exotic species, such as snakes, scorpions or snapping turtles as companion animals. Many of them make excellent pets that you can be sure will not cause their owner any problems (or, at the most, an uncomfortable bite or an unpleasant sting). But others can give a good scare to owners or visitors, neighbours or friends
In the case of reptiles, sometimes people purchase certain species with the intention of keeping them at home and later, when they have reached their adult size, discover that they have a heavy problem on their hands. Boas or pythons may need two people to handle them when they are fully developed. Imagine these animals moving freely around a house or apartment staircase if they manage to escape.
However, people do not only buy snakes that provide big hugs. Through certain legal or illegal channels, selfish people who wish to own the rarest, most exclusive pets dare to buy poisonous animals. The fact that poisonous species such as scorpions or tarantulas are on the market ought to make prospective owners think about questions different from when they buy Korean squirrels or talking parrots, such as questions about their safety and that of their family and neighbours. Or make them consider if this type of animal really should live out the rest of its days in an environment that is so different from his natural one.
But, if for whatever reason you decide to purchase one of these animals, in the first place you should gather as much information as possible about its characteristics and dietary and environmental needs. Most veterinary consultations related to this type of pet are due to diseases brought on by inappropriate handling. That is, because the animals have not been provided with the necessary light, temperature, humidity, food, etc.
You should find out beforehand if your exotic pet needs the "CITES (Convention on International Trade in Endangered Species of Wild Fauna and Flora) certificate". If the species to which your pet belongs needs this certificate, it must be provided along with the sales invoice. You will usually be provided not with the original document but with its number. This guarantees that the animal specimen that you are purchasing comes from the legal trade in listed species. For this reason you should only buy from a specialized shop, avoiding animals from street markets, door-to-door salespersons or of questionable origin. To summarize, in these matters it is better not to pay attention to fashions and, if you are passionate about this type of animal, take into consideration all of the possible problems in a serious, well thought-out and responsible way.