Educating your puppy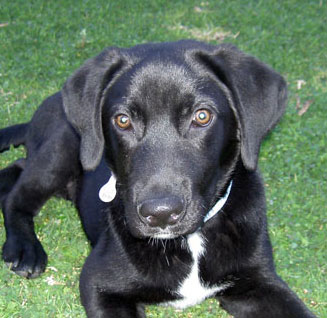 Bringing a puppy home tends to be quite an occasion. Even though he might be carsick, disoriented, surrounded by new faces... and going from hand to hand. Not long after he arrives he will usually try to explore his new home, using his nose right and left.
It is sometimes recommended to follow your pet on its four-legged inspection visit so you can see what he is about to find and avoid scarres and accidents, such as biting the wires that hang from the television set or sound system.
When the puppy settles down he should be offered water and some food. The dishes should be in a clearly designated place from the very beginning. This area should be easy to access and to clean. There are two other very important areas: one is the sleeping area, which should be quiet and separate from the rest. You will find crates and bedding on the market in every shape and size. But the most conflictive area of course is the toilet.
As long as your pet is confined inside the house, he will need a clearly defined area to use as toilet that is independent and easily accessible to him. Sheets of newspaper can be used for this purpose. A puppy will not usually understand how you wish him to behave, so you will have to tell him. If he goes to the toilet in a different place from the designated area, you should use a piece of paper to pick up the mess and leave it on the newspaper in the designated toilet area. It is not pleasant, especially for first-timers, but necessary. Another option is to take the animal to the toilet area immediately after eating or drinking, as he will usually urinate or have a bowel movement 5 to 15 minutes afterwards. He should be put on the newspapers as he begins and should be praised for his performance. However, you should keep in mind that training takes time.
If you catch your puppy having an accident outside of the designated area, you should scold it by taking it by the scruff of the neck and shaking it or by saying a loud "No", after which he should be taken to the newspapers. Methods such as rubbing its nose in its own excrements are not necessary. But your reaction is useless if several hours have gone by. Your pet's memory is not like human memory, and scolding him after the fact will only disconcert him.
If you lay down these simple rules from the first day and follow them patiently and affectionately you will be establishing the bases for a great friendship and a comfortable relationship with your pet.
Did you know...
Dogs suffer malignant tumours more frequently in the skin, mammary glands, oral cavity and bones.