Bleach, the ideal disinfectant?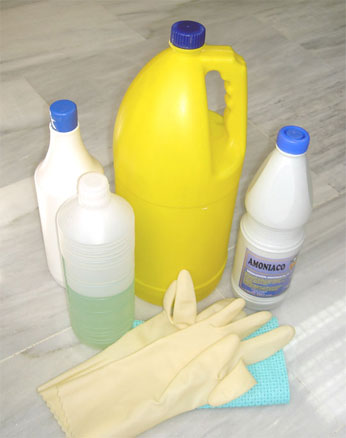 Many chemical products may be used for surface disinfection in homes and businesses. Bleach or sodium hypochlorite is preferred, thanks to its broad spectrum of action besides being inexpensive and easy to apply. It may also be used to disinfect drinking water and food, although in these cases you should only use bleach that has been approved for this purpose. You may make sure of this by checking that the label mentions it expressly and also that it has been manufactured by an approved establishment (that is, it contains the Registro Sanitario number)
Bleach is very popular among Spanish consumers who consider its use the most effective way to achieve disinfection, even associating the odour of bleach with it.
However, bleach has some drawbacks, such as corroding stainless steel if it is used at high concentrations. Besides, not everybody likes its characteristic smell. This is the reason why many people use other products that have a more agreeable odour, although they are more expensive. So if you decide to use a different product for disinfection purposes, you should know that its colour or its smell are not important. What is important is that it guarantees a disinfecting power similar to that of bleach, which is always considered the reference among disinfecting products.
Bleach is highly effective and has a low toxicity when used under normal conditions, although if it is not used properly it may be toxic. It must never be mixed with other substances. For example, when mixed with acid it causes chlorine to evaporate. This gas is very toxic and the person who has made the mixture may end up in the hospital.
Besides, it is very important to wet down the treated surface completely with the disinfecting solution or it will not be properly disinfected. To avoid this, the surface must be cleaned first, or a commercial product containing a mixture of detergent and bleach may even be used. But we must insist, for your own safety, that you should never mix chemical products at home. They should be bought already mixed.
It is important to clean beforehand, since organic matter inactivates hypochlorite. If you do not clean first, the activity and efficacy of bleach will be reduced considerably.
If you follow these short instructions, you will achieve good disinfection levels easily and inexpensively.