Queso fresco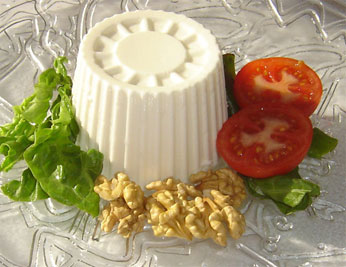 Queso fresco, a type of Spanish unripened cheese, is a dairy product that shares most of the nutritional properties of milk. It is very nourishing and has the image of being healthy, which makes it very acceptable. It is also a versatile ingredient in the kitchen. But you should know some things about it.
For example, queso fresco often goes by unregulated names, some of them with geographical references. This creates confusion and should be evaluated first. Depending on the manufacturing process, this type of cheese must be called queso fresco or queso blanco pasteurizado. In this last case, the curds undergo heat treatment. This treatment lengthens its shelf time, but gourmands consider that it affects the cheese's flavour.
As to the type of milk used to make this kind of cheese, it is compulsory to name the animal species it comes from. This is an important detail because it will give you an idea of how the cheese will taste. Cheeses made using only cow's milk will be less flavourful. This is why some producers mix it with goat's or sheep's milk, or with both of them. If queso fresco is only made with goat's milk it is more palatable and more flavourful, but the choice is highly personal.
Although it might seem to be a fairly homogeneous product, there are important differences between brands in composition and in taste. Consumers can take these criteria into account when choosing which cheese to purchase.
Cheese tasting requires that the taster assess the outer and inner surfaces, in-mouth texture, cutting consistency, flavour and aftertaste. Cheese that does not have very much consistency when cut is more valued. Other valued properties are having an intense flavour similar to that of cream, being moderately salty and not bitter.
Queso fresco is considered a good source of proteins and calcium. It also has a lower fat content than cured cheeses, although it is not insignificant. Depending on the manufacturer it may be classified as medium or high fat. Consumers worried about their calorie intake may choose between one and the other by checking this information on the label, where it must appear.
Eating queso fresco manufactured by approved establishments is very safe. This is because these establishments guarantee that they use pasteurized milk to make it, that is, milk that has been treated with heat to eliminate the possible disease-causing germs that it may carry. This is why you should not eat cheeses of questionable or illegal origin because if they have been made with unpasteurized milk they may transmit brucellosis, also known as Maltese fever.
How can you know if the manufacturer is approved? In the first place, by checking that the cheese is properly packaged. If it is not, it should be discarded. And, as in any other food, you should always read the information on the label. It should always include the health mark, an oval figure that includes the approval number that identifies each business individually. Labels include other important information that should be checked whenever you buy perishable products, such as the date marks. In this case, and depending on the kind of queso fresco, either the "use by" or the "best before" date should appear.
On the other hand, since it is a perishable product it should be chilled and eaten as soon as possible once opened. If you do not do so, it may begin to spoil, especially if you buy it close to the "use by" date or if it is left too long at room temperature while eating it.
You can tell when queso fresco starts to go off because the surface will turn sticky. It may be used then if you fry or grill it. If you let the process continue, you will notice a sticky whitish film on the surface that can be scraped off with a knife. At the same time, it will smell badly. You need not worry, because this is so noticeable that it is almost impossible to miss.
In short, if you pay attention to these recommendations, queso fresco will be not only a good source of proteins and calcium, but also a very safe food for you to eat.