Hygiene in eggs and egg-based foods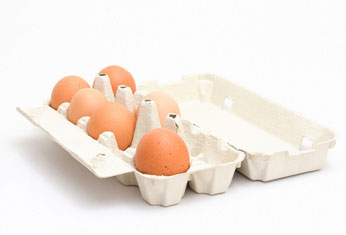 Egg-based foods have frequently been linked to outbreaks of salmonella infection. Egg-based foods include sauces and especially mayonnaise, which traditionally is made with fresh eggs mixed up with the rest of the ingredients in the sauce. This kind of food preparation entails health risks for different reasons.
The source of the contamination may be the person who handles the food, if he or she is ill or is a carrier that does not show symptoms. Or the egg may contain salmonella bacteria inside it, which happens in a small percentage of cases. But it may be that the salmonella bacterium is on the surface of the shell. This is more usual, since salmonella is commonly found in birds.
Eggs are provided with natural packaging, their shells. But this packaging does not provide infallible protection, contrary to what most consumers believe. This is because eggshells have many minute pores and microorganisms are able to pass through them.
But the inside of eggs is usually sterile after they are laid. This is due to a thin and invisible layer that completely covers the shell, known as the cuticle. It is a very sensitive cover that disappears with dirt, friction or age. Aggressive handling of the eggshell may lead to cuticle loss. In areas where the protective layer disappears the pores in the eggshell are left unprotected. As a consequence, microorganisms on the shell are able to enter the egg and contaminate it. If traces of fecal matter containing salmonella from the chicken are left on the eggshell the microorganism may find an entrance to the inside of the egg. This is why it is essential to provide consumers with eggs that are clean and free of faecal matter. When fresh eggs are stored under the proper conditions, the cuticle is preserved for the longest possible time. The potential health risks of eggs will be lessened if dirty eggs are prevented from being distributed and mayonnaise is not homemade.
The best preventive measure for mayonnaise is to avoid consuming homemade or traditionally made products and supporting commercially manufactured pasteurized mayonnaise, that is, mayonnaise that has had heat applied to it to eliminate dangerous microorganisms.
Did you know...
Any of the commercial dog foods on the market contain the necessary amount of calcium, provided that you make sure that your pet's diet is adapted to its age and build.