Natural antioxidants in meat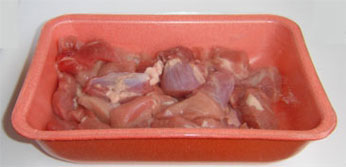 Most perishable foods do not have a long shelf life due to the growth of microorganisms that are naturally present in them. In recent years an extraordinary breakthrough that has solved this problem is the packaging of food in different gas mixtures or vacuum-packaging, both of which inhibit germ growth.
The shelf life of most food packaged under a modified atmosphere will then depend on other factors. Mostly on the reactions produced by food oxidation, due to light and especially to ultraviolet radiation. Thus, the shelf life of food wrapped in transparent plastic is limited by the appearance of disagreeable colours, smells and flavours having to do with these reactions. Fresh meat, especially red meat, is a typical example of this process. Oxygen needs to be present in the gas mixture used in modified atmosphere packaging in order to maintain the deep red colour of fresh meat, and that means that the conditions are highly oxidizing. This is also applicable to products made from minced fresh meat, such as hamburgers, meatballs or sausage. In processed meat products deterioration is increased by handling, which boosts microbial counts and oxygen contact. Because of this, packaged meat subjected to the lighting of supermarket display cases may suffer extensive oxidation and, as a consequence, a rapid loss of the colour, smell and taste of fresh meat. In practice this means that packaged meat will have a reduced shelf life of around 5 days.
Adding various natural antioxidants is one of the most important methods used to prevent this problem. Two other different systems have been used to diminish the negative effect of lighted display cases. One of them is replacing regular lighting with lamps which do not emit ultraviolet radiation in their spectrum. In the other, the light source emission is filtered so the food is not exposed to radiation.
In the case of packaged red meat, mixing it with certain antioxidants added to the use of lighting systems lacking in ultraviolet radiation doubles its shelf life, so that it will keep the same length of time than if it had been stored in the dark.
Did you know...
Hip dysplasia starts with different alterations in mobility, such as reluctance to go on walks, lameness and pain.