Should dogs eat bones?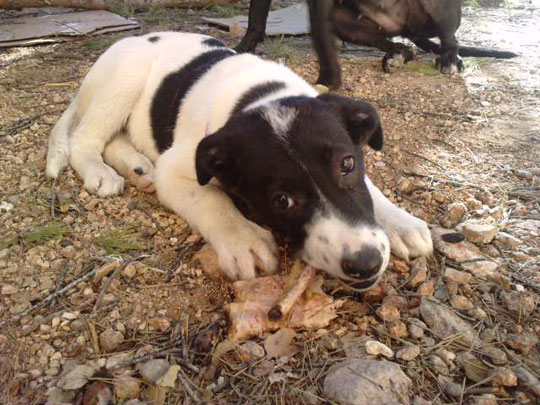 Dogs are frequently given bones to eat by their owners (generally, leftovers from the Sunday meal). Dogs are always disposed to eat bones, but this is not a good reason to think that bones are good for them or, even more, that what we are doing is good for them.
Small bones (from rabbit, pork, lamb, chicken or other animal species) may cause a lot of damage. Here is a list of the most common processes suffered by dogs that have eaten bones and seen in veterinary clinics:
WORN-DOWN OR FRACTURED TEETH
BONES STUCK IN THE JAW
INJURIES TO THE MOUTH (PALATE, TONGUE, GUM OR CHEEK)
BOWEL OBSTRUCTION, OR BONES TRAPPED IN THE STOMACH WITH THE DOG UNABLE TO DIGEST THEM (both require surgery)
SERIOUS CONSTIPATION. The animal frequently must be put to sleep to try to empty the contents of the bowels. In most serious cases a bit of the colon must be cut off.
You should keep in mind that dogs descend from wolves but have evolved through time, while wolves stopped at an earlier stage of evolution. In the same way, it would not seem logic for humans to eat and cook food as it was done in prehistoric times. We have to understand this and apply it to the domestication of dogs: it makes no sense to dress a dog in a woollen sweater in the winter because it is cold, but to give it bones thinking that our dog loves them and that nothing has ever happened.
I would not risk my dog's life for a bone; this is why I recommend that you don't do it. Unfortunately, every vet has seen many cases of this, some of them with very sad outcomes.
Did you know...
Dogs react to certain stimuli. Aggressiveness is most frequently caused by fear and by the need to defend their territory, as well as by displays of dominance.