Obesity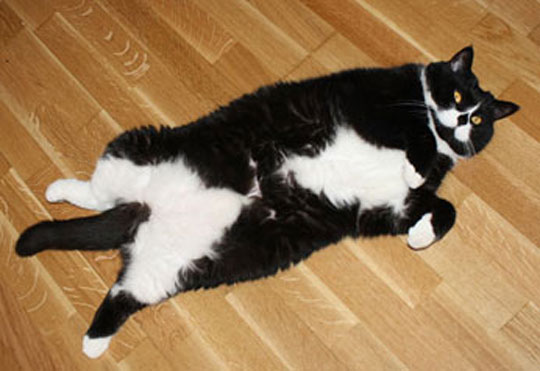 Obesity is considered by many people to be an aesthetic problem, although it is really the most frequent nutritional disorder occurring in people and in pets in developed nations.
An animal is considered to be obese when its body weight is 15% higher than what is considered ideal. Many of you may think that few animals comply with this weight requirement, but statistics tell us that between 25 and 50% of dogs and between ten and 20% of cats are obese. Are you surprised? There is more: certain breeds, such as Labradors, Cocker Spaniels, Teckels, Basset Hounds or Beagles, are more predisposed towards obesity.
This disorder affects females more than males and, interestingly, obesity in pets goes hand in hand with their owner's obesity in almost half of the cases.
The cause of this problem is easy to summarize: "the energy that enters the animal's body exceeds the energy used". But, who provides that excess energy? Who is responsible for the energy not expended through walks or games?
If you still have doubts about obesity as a disease, you should not forget the long list of problems that can be found in obese animals: lower resistance to infections, orthopaedic disorders, affected heart and blood vessels, reproductive difficulties, lower tolerance to heat, increase in surgical risks. Isn't this enough?
If you are sure that your pet is obese, and know the consequences for its health, you have covered most of the journey. Your veterinary surgeon will establish the guidelines necessary to solve the problem, and will determine if non-dietary disorders associated to obesity exist. It is very important to follow your vet's instructions to the letter. Your pet will eat food that contains the necessary nutrients and energy for his condition. Special diets exist on the market that follow these requisites: you will have to feed your pet several times a day to lessen anxiety and favour proper weight loss. Your vet will also establish a daily exercise and walks program.
If you meet all of these goals your pet will be in better general condition and will lose weight every day.