The European Union Pet Passport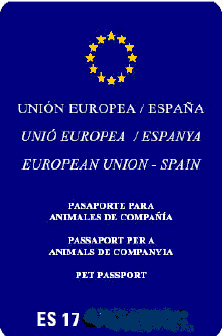 From 1 October 2004, all dogs, cats and ferrets in the European Union must be issued with the same model of passport to be used for non-commercial travel within Member States. This makes free movement easier since it replaces the different types of certificates that existed before this date and is extended to animals born since then. Animals issued with one of the earlier certificates may still use them and will not need the new document except if they are going to travel outside of Spain.
This new model of EU pet passport is the same all over Spain, and it is the autonomous communities that must put it into effect. It is a standard size; it has blue covers and shows yellow stars representing the Member States, with the text "European Union" and the name of the issuing country.
This official veterinary document uses the official language of the country of origin plus English and contains the pet's identification number, which must match the number of its electronic microchip or tattoo. It is also important to know that, after a transitory period of eight years, European legislation will only accept the microchip as a means of identification.
The passport certifies that pets have been vaccinated against rabies and contains information about other vaccinations, even those that are not compulsory. It also includes a section on clinical examinations and legislation, which makes it possible to use it for travel outside the European Union.